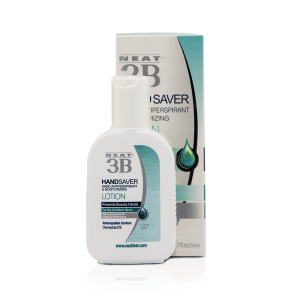 Description
Sweaty hands are embarrassing, and no one wants to be seen wiping down their palms on the clothes before greeting someone – be it family or strangers. Cringe! Instead, keep the Neat 3B Hand Saver Lotion on-hand to combat palm perspiration no matter where life takes you.
Prevents excessive hand perspiration
Enjoy dry, confident hands AM and PM
Infused with a powerful antiperspirant base
Deodorize, moisturize, and protect around the clock
Combats dryness and chafing too
New Zealand's leading doctors spent years developing an advanced anti-perspiration formulation, developed to effectively absorb sweat and prevent it from returning throughout the rest of the day and night. Featured by the USA Hyperhidrosis Society, Neat 3B Hand Saver is more than just a hand lotion. While we can't stop your sweat glands from producing sweat, we can control the aftermath, with a powerful emollient that boasts impressive antiperspirant properties. The lotion prevents the palms from getting excessively sweaty, and the effects last for hours even after washing your hands. Whether your hands are generally sweaty, or you need a more secure grip when lifting weights, this moisturizing and deodorizing formula combats clamminess AM and PM. Fight dryness and chafing at the same time, so you can enjoy every moment of every day with confidence. Get it online now (with worldwide shipping options) or at your local pharmacy today!
If there is an adverse reaction, the patient should consult their doctor for professional medical advice.