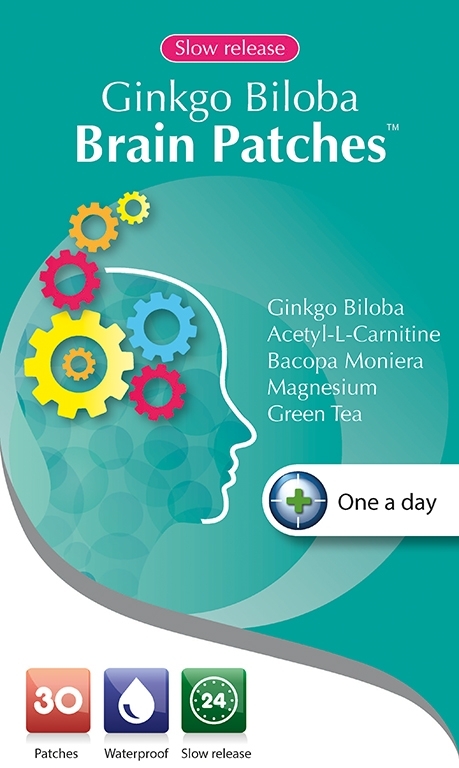 Product of UK
Ginkgo Biloba Brain Patches with transdermal technology
Ginkgo Biloba Brain Patches have been formulated and laboratory tested by leading UK supplement experts.
Ideal for customers looking for an effective natural way to maintain brain function .
They contain a unique combination of Ginkgo Biloba, Acetyl-L-Carnitine, Magnesium and Green Tea.
Our Ginkgo Biloba Brain Patches are discreet, waterproof and easy to use, just change your patch once a day.
Our unique formula Ginkgo Biloba Brain Patch contributes towards long term brain health.
FORMULATION (INGREDIENTS)
Ginkgo Biloba
Ginkgo Biloba is found in China, Japan and Korea and is also found in Europe and America. Brain function can be improved by the antioxidant properties of Ginkgo Biloba and many studies have supported Ginkgo Biloba's ability to increase cognitive function.
Magnesium-L-Threonate
This new form of Magnesium has been developed specifically to help with absorption of magnesium into the brain tissues to help with cognitive function. Studies have shown it leads to the enhancement of learning abilities, and short-term and long-term memory.
Camellia Sinensis (GREEN TEA)
Green tea has been shown to increase cognitive function, including learning and memory in a number of studies.
Acetyl-L-Carnitine
Acetyl-L-Carnitine is an amazing ingredient and may have neuro-protective effects and improve brain function with studies showing positive outcomes for improved memory function.
Bacopa Moniera
Bacopa Moniera is used in Ayurvedic medicine to support the Central Nervous System and as a memory enhancer. It also has been shown in studies to improve attention, cognitive function and memory.
How to use
It could not be easier! Just apply one patch to a relatively hair free part of your body (the inner arm, lower back or shoulder are ideal), and change the patch at the same time every day. Any residue or adhesive left on the skin may be washed off with warm soap water.
Note – Store in a cool place.
If there is an adverse reaction, the patient should consult their doctor for professional medical advice.