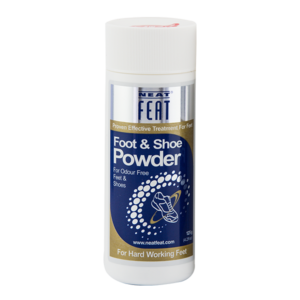 Description
What's that smell? With this potent foot and shoe powder in your pocket, neither you nor anyone around you will ask that question ever again. Instantly deodorize hot and tired feet with powerful antiperspirant action – perfect for hard-working soles.
Keeps the feet dry and odour-free
Effectively prevents embarrassing foot odours
Infused with powerful antiperspirant to reduce wetness
Features antibacterial and anti fungal agents
Apply every day for dry, comfortable feet
Foot perspiration and odours are no match for this potent doctor-developed formulation, created to combat foot sweat and its accompanying odours head-on. Use diligently for 7 days in a row to experience noticeable results that last long after each use. Antifungal and antibacterial agents protect your feet from infection too, on top of keeping you dry and odour-free all day and night long. This high-performance foot powder is easy to use wherever life takes you, whether you smell something strange, feel uncomfortable, or just want to be safe. Don't believe us? Click here to check out some testimonials from our happiest customers for yourself. Could you be next? Get the Neat Feat Foot and Shoe Powder at your local pharmacy today. Can't wait? Bag it today for doorstep delivery in Australia and New Zealand. Only available while stocks last. Worldwide shipping available!
If there is an adverse reaction, the patient should consult their doctor for professional medical advice.